Being a Purina Certified Expert Dealer means that we offer a complete line of quality Purina feed products and have knowledgeable associates who care first about our customers, and their animals. Training is a key element for our Certified Expert staff and you can depend on us for Certified Expert advice!
Expert Articles & Advice
March 1, 2014
Newly hatched chicks, ducklings, goslings and turkey poults require that their very basic needs for shelter, warmth, food and water be met in order to survive. Good care and management with a bit of TLC will go a long way in providing a healthy start for your young flock.
March 1, 2014
The Filipoff family keeps a flock of about 50 chickens and are, in a way, living a dream come true. Steve Filipoff grew up in Los Angeles, CA and as a boy raised chickens in this unlikely place, in a very tiny yard. He knew then that he wanted to raise and enjoy chickens later in life.
Special Offers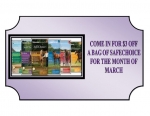 $3.00 off Bag of Safechoice Feed during the month of March!
Valid 3/01 - 3/31/2014
Purina Equine Videos
Chris Hickey, Purina ambassador and director of training at Hilltop Farm, Inc., shares why he feeds Purina® FreedomFlex™ Joint Health Product.
Quick Contact & Hours
Mon - Fri
9:00 am - 6:30 pm